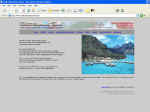 Visit Website.

It's unparalled beauty...
from the bluest lagoons where giant peaks emerged, with the fragrance of Tiare flowers and vanilla lingers the air and to the melodious French language the lovers whisper.

Fall in love, come to Tahiti and her islands...
A place where you are greeted with
Tahitian kisses and warm hospitality.
Discover the South Pacific as how you dreamt of it... a fantasy no more... we can make it affordable.
Oh the romance of the South Pacific...
A famous writer can best described it asn earth".